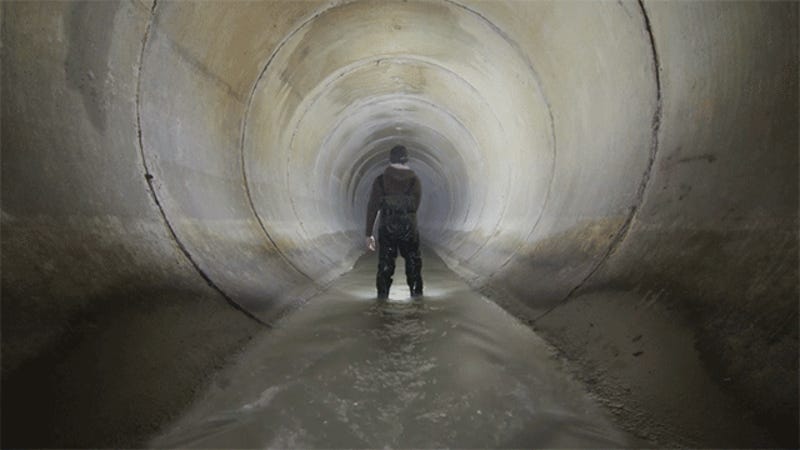 Andrew Emond, a Montreal-based photographer, amateur geographer, and DIY gonzo spelunker of the city's sewers and lost rivers, has just re-launched his excellent website, Under Montreal. The revamped site now comes complete with a fascinating, interactive map of the city's subterranean streams, documenting Montreal's…
Bertha, the world's largest tunneling machine, churning through the rock and mud beneath Seattle, has hit a mysterious roadblock—so mysterious, it is only known for now as "the object."
The history of rapid-transit began 150 years ago, with the opening of the Metropolitan Railway in London in 1863. In the next century and a half, dozens of architects and engineers have worked on underground tunnels and stations. Some are abandoned now, but others are as good as new. Here are some of the most…
Whether you're looking for superpowered pets, non-moving motion comics, classic tales retold or spelunking adventure the way you want it, there's only one place to look this week: Your local comic book store. Why, yes: These are comics we crave.
What do you get when you combine a sentient, artificially intelligent subway train (starring Emma Clarke, the voice of the London Underground and Keanu Reeves) with Speed and Titanic? It turns out you get "Sentient Subway," a hilarious Hollywood movie pitch that needs a bit of work on its title. However, having heard…
Artist, designer, and futurist Mark Goerner reimagined The Wizard of Oz long before Tin Man started rattling the airwaves and ratings on the Sci Fi Channel. This conceptual painting shows the cavern where the subterranean Munchkins dwell. It looks like a fairly lonely place with some sort of sleeping pods hanging…