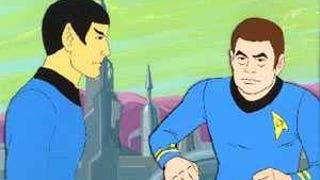 We're huge fans of Star Trek: The Animated Series, which brought back the Original Series cast and writers and included some surprisingly great stories. So it's good news that Roberto Orci tweeted that a new animated Trek could be materializing.
Remember when we all guessed that Star Trek's little-dead-Corvette-scene, with Beastie Boys' "Sabotage", was a poke at William Shatner's refusal to pronounce the word sabotage correctly? Turns out J.J. Abrams isn't that clever. Surprised? Me neither. Find out what else was merely a "happy coincidence" on the Star Trek…
The final issue of Star Trek: Countdown was released this week, completing the prologue to this summer's Star Trek movie. If you skipped the series, then you missed a lot... including some old friends. Spoilers!
While superbowl audiences are wondering just why that young guy is pretending to be William Shatner, Star Trek's new Captain Kirk Chris Pine is preparing to be named "Male Star of Tomorrow" by expo ShoWest.
Click to viewSome of the coolest characters in science fiction sport bad-ass tattoos that signify membership in a secret society. And if you're a futuristic assassin, there's nothing like having some ink on your face to set you apart from the regular tough guys. It's amazing how much character development movies and…
Just in time for those of us making very early holiday gift lists, TrekMovie has news of the ideal present for the comic-book-reading Star Trek fan in your life. Especially if that happens to be yourself: A DVD compilation spanning 35 years (and five publishers) of four-color voyages called .Produced by GITCorp, the…
Captain Kirk's costume in the new Star Trek film looks as exciting as a bellhop outfit, judging from the fuzzy images that have been turning up online. (Like the above photo, from JFX Online.) But let's face it, James T. Kirk was hardly ever on the cutting edge of style. Forty years of fashion crimes in space, after…