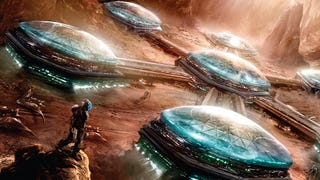 Is the publishing industry trying to kill us all? There are so many must-read books coming in February that you may not have time to sleep, or socialize, or possibly go to your job to afford more books. This month's haul includes Kelly Link and Peter Beagle writing superhero tales, Neal Asher's brand new dystopian…
Max Barry's Jennifer Government was one of the most original and entertaining dystopian novels of the past decade, and now Barry is helping to reinvent publishing. Or at least, his bold experiment, Machine Man, seems to have paid off.
Traditional publishing's decline, and the severe hardship of our ongoing econom-ick, are forcing writers to do what they do best: get creative. Urban fantasy author Tim Pratt has joined Catherynne M. Valente in publishing serialized fiction online, relying on donations.
The All-Seeing Eye in the Sky is watching you, thanks to satellites, wiretaps and "trusted" computers. Or maybe superheroes can hear your every murmur from their private satellite. Feeling paranoid yet? Then you're just in the right frame of mind for Diet Soap, a new zine that aims to channel the wacked-out writing of…