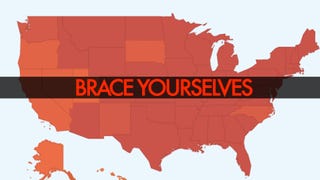 The CDC has just released its latest update on influenza activity in the United States, and the picture it paints is not pretty. First things first: GET VACCINATED. You're over six months old? Get vaccinated. Someone you interact with on a regular basis is at high risk of flu complications (i.e. young, old, pregnant,…
While public concern over the H1N1 influenza may have quietened down, that doesn't mean that the threat of swine flu is over for now. Just the opposite - the WHO has officially designated it the first pandemic in over 40 years.
Could pig embryos help humans become healthier and more resistant to illnesses like swine flu? That's a theory that's currently being investigated by Israeli scientists, but is it kosher?
A fake BBC news site reports that swine flu is creating zombies. Still it makes our hearts flutter reading news reports like this: "After passing....he rose from the dead and lunged at his mother."
The swine flu genome has been sequenced. Writer and computer geek Stephan Zielinski spent a little time tinkering around with algorithms and figured out a way to convert one of its genes into ambient music. I have to say, it sounds amazing. You can listen to it, and learn more about how he did it, on his blog.
Feeling worried about the impending swine flu epidemic? Just to make you feel more panicked, we've put together a list of 11 movies that show what happens when humanity is attacked by unstoppable viruses.
Forget avian flu; a "swine flu" that's already killed eighteen people in Mexico seems to have come to the US, and the World Health Organization are discussing whether or not to declare it a pandemic.