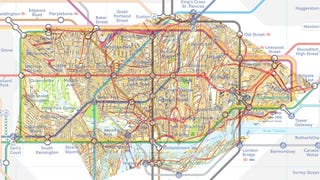 Mapfodder wondered what London would look like if the Tube map was geographically accurate, and the result is reminiscent of the first days of Apple Maps. Maybe this was the problem all along!
The history of rapid-transit began 150 years ago, with the opening of the Metropolitan Railway in London in 1863. In the next century and a half, dozens of architects and engineers have worked on underground tunnels and stations. Some are abandoned now, but others are as good as new. Here are some of the most…
Design writer Alissa Walker recently took a tour of L.A.'s original subway system, one whose tunnels are no longer in operation, though they remain down there bricked off and all but forgotten beneath buildings downtown.
New York City's Second Avenue Subway isn't scheduled to open until 2016, but the Metropolitan Transit Authority has just released photos of the construction in progress. That's a picture of a massive hole — inside which you could host an entire demolition derby — somewhere under 72nd Street. Mind-blowing. Hat tip to…
Imagine, if you will, a secret community dwelling beneath the streets of New York City, its inhabitants never allowed to travel to the surface or to interact in any way with the dreaded "Topsiders." That's the premise of an award-winning 1999 YA novel by Neal Shusterman called Downsiders, exploring what happens when a…
To demonstrate the havoc rising sea levels would wreak on London, Practical Action has released this tube map from the year 2100. A four-meter rise in water levels on the Thames Flood Plain would result in a soggy commute indeed.
These quirky Tokyo subway posters from 1976-1982 encourage public politeness using superheroes, monsters, aliens, and other icons. Pink Tentacle has a huge collection of these oddballs public service posters, but here are some of the best.