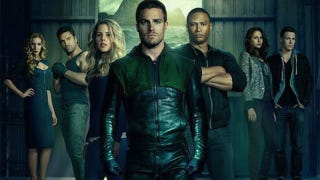 Tonight sees the season premiere of Arrow, last year's most exciting new show. We caught up with stars Stephen Amell and David Ramsey, plus Malcolm Merlyn actor John Barrowman back at Comic-Con, and they explained to us how Oliver's failure at the end of season one will affect what happens in season two.
Greetings, fellow denizens of the post-apocalypse! The ol' mailbag was full before people had recovered from Comic-Con, so I expect to have plenty of questions about what went down (hint hint). Meanwhile, let's talk about Hollywood's perception of failure, the greatest superhero football team of all time and why I…
In this week's "Postal Apocalypse," we reveal the incredible secret excretory systems of vampires, figure out what you need to be watching on Netflix, and discover a war that's also a paradox... a paradox of death. Read on, but don't forget to send your questions to postman@io9.com!
Here it is — the first look at the new superhero series Arrow, all about the rich boy who's survived on an island, only to become a hooded vigilante, the Green Arrow. Here is your very first look at main character Stephen Amell (Hung, New Girl) in the infamous green hood, and with a bit of the Arrow beard as well!