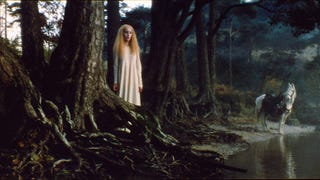 Lost for decades, the sword-and-sorcery short film that showed before Star Wars: The Empire Strikes Back is finally being shown again at the Mill Valley Film Festival. And it turns out the most innovative thing about Black Angel, a technique for slowing down the fight scenes, was purely to pad out the length.
This summer, everybody is going into a very dark place. Superman is growing an underwater beard and getting angsty, Iron Man is getting his soul crushed, and Star Trek wants you to know that it's going into darkness so badly, they put that in the title. So if you're planning to film an epic story about a legendary…
If you saw Star Wars: The Empire Strikes Back in the theater in Europe or Australia, you may also have seen a short film called Black Angel. This ground-breaking 20 minute sword-and-sorcery film was directed by Star Wars art director Roger Christian, and it influenced the look and feel of 1980s fantasy films like …
These days, every cool science fiction universe is a "franchise," meaning that it's a piece of intellectual property separate from any particular creator or even set of characters. It wasn't always that way — everything changed in the 1980s.
Tons of science-fiction novels have gone public domain and gotten posted at Project Gutenberg . Including books by Fritz Leiber, Frederik Pohl and Philip K. Dick. And Black Amazon of Mars by Empire Strikes Back co-writer Leigh Brackett. [Lawrence Person]
Now that Avatar has made more money than the original Star Wars, George Lucas is apparently making noises about re-releasing the series in 3-D. How do you feel about that? Trust your feelings!