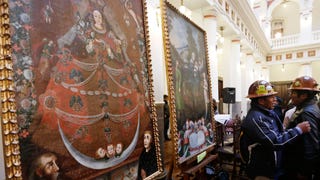 The long saga of two giant, colonial-era paintings — stolen from a Bolivian church in 2002 and unwittingly purchased in 2003 by New York collectors, who discovered they were stolen after loaning them for a 2013 exhibit — came full circle yesterday when they were unveiled at the government palace in La Paz.
Nestled in Chile's Elqui Valley, Elqui Domos is perfectly situated for a spectacular view of the night sky. To cater to astronomers looking to revel in the region's starry vistas, the hotel hosts its very own observatory, as well as rooms with windows pointed skyward.
For years, it was assumed that imperial cormorants — large seabirds typically found along the southern coasts of South America — fed on fish just below the surface of the ocean. But when scientists in Argentina outfitted one with a tiny camera, they discovered that the birds are, in fact, remarkably accomplished…
Last summer, Google took its Street View cameras to the Amazon, looking to capture the same 360-degree vistas that have made the technology so useful in cities all over the world. Yesterday, the project went live. There goes the rest of your week.
You will probably never eat a sloth. For one thing, they're paralyzingly adorable. Furthermore, for as sluggish as they are, sloths meat is — surprisingly — not very tender at all; in fact, it's reported to be pretty tough and gamey. Finally, it's illegal to hunt them — and most of the South American tribes that can…
The apocalypse may begin with swarming ants. New, deadlier species keep popping up: Researchers at University of Texas recently
discovered
a new ant species in the Amazon, which they named , or "the ant from Mars." It's a predator that feeds on termite larvae. Sure, the wee dude appears benign for the time being, but…