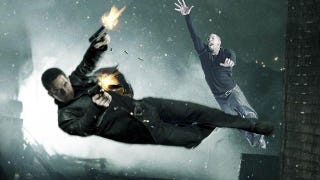 In space, nobody can hear you freestyle. But that hasn't stopped some of hip-hop's greatest legends from appearing in some classic science fiction and fantasy movies. From battling killer sharks to fighting off ghosts on Mars, some of our favorite rappers have also become some of our favorite SF heroes.
You have to love this new Adidas ad, featuring Snoop Dogg, David Beckham, Daft Punk and Oasis' Noel Gallagher in the classic cantina scene. Mostly for Snoop Dogg's response to the classic "My friend doesn't like you" line.
Astronaut "Buzz Aldrin is so gangster" that when he puts out a record, Snoop Dogg, Talib Kweli Quincy Jones and Soulja Boy all want to get a piece of this astro action. Listen to Buzz's new track "Rocket Experience."