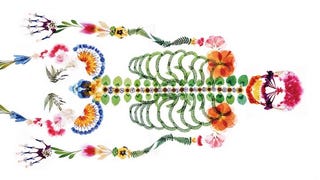 Japanese funeral home Nishinihon Tenrei wanted to create an ad that would break from the traditional funerary colors of black and white while still presenting a respectful image of their services. Tokyo-based ad agency I&S BBDO came up with this life-sized skeleton, celebrating the life of the departed through…
This is what you get when you take data from a CT scan and convert it into a format that can be read by a 3D-printer. It's a skeleton. But not just any skeleton. The 3D model you see here was printed while the rat whose bones it's based on was still alive. Intact. Still wrapped in muscle, skin and fur.
Skeleton sculptor Tim Prince took a bit of the person-eating plant from Little Shop of Horrors and added a pinch of Aliens' xenomorph queen to create this fearsome tribute to the horror comedy musical. I wouldn't put it past this critter to attempt world domination.