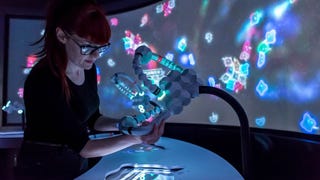 The burgeoning industry of biological design is in the headlines every day. Yet even science journalists have had trouble explaining concepts like CRISPR in terms that everyone can understand. A new exhibition at a Silicon Valley museum skillfully explains the technically and ethically complicated field of…
Apple released details about its newest product today in Vogue, almost a month before the Apple event rumored for March 15. Although this reveal was a departure from the company's standard keynote unveils, the choice to announce the new product in the pages of Vogue certainly fits with its growing shift towards high…
"Two Day of the Condor" is one of the strongest episodes of Silicon Valley yet, turning California labor law and server stability into compelling television. It didn't have the equivalent of last year's perfect dick joke, but it had something better: Dramatic tension, and sweet lady justice.
HBO's second-most-popular returning show about shifting alliances and desperate, bold power plays in an unpredictable and vicious world on the brink of howling collapse came back last night. The second season premiere of Silicon Valley had 4000% fewer dragons than Game of Thrones and exactly two (2) fewer bare butt…
The characters on HBO's new show Silicon Valley work in tech, and they clearly know a thing or two about video games. So when it comes time to articulate the pointlessness of one of their peers, they've got a pretty solid frame of reference to work with.
Northern California public radio and TV station KQED has just produced a great documentary about how the rulers of Silicon Valley turned their attention from cyberspace to outer space. Watch it here!
In the middle of sprawling Silicon Valley hub San Jose, surrounded by startups and tech campuses, there's a monstrous anachronism of red-tiled roofs and Victorian curlicues. It's the 1880s mega-mansion known today as the Winchester Mystery House. Built by heiress Sarah Winchester over a period of almost forty years,…