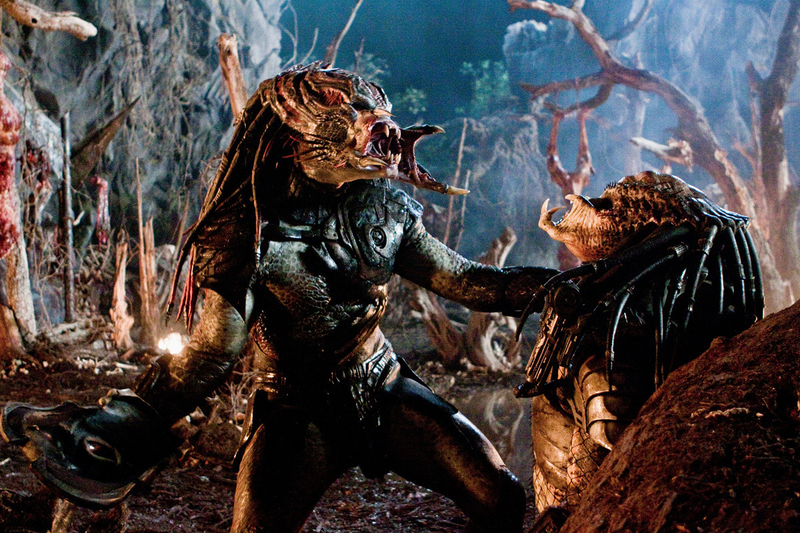 Just a weeks after we learned that a new Predator film was on its way, 20th Century Fox has announced its release date: almost exactly two years from now, on March 2nd, 2018.
Years after battling Arnold, Aliens and Danny Glover, there's a new Predator movie in the works. If you weren't aware, that's because very little has been made official about it outside of a few insider quotes. Then today, a new image popped up on Facebook which seems to be teasing some kind of announcement... and a…
Fox is already rebooting the Predator franchise after its more-or-less failed 2010 movie Predators, but that's not the big news. The big news is that they've somehow given control of the franchise to Shane Black, the writer/director behind movies like Iron Man 3, Kiss Kiss Bang Bang, and Lethal Weapon.
Before Drew Pearce co-wrote Iron Man 3, he was working on a screenplay of Brian K. Vaughan's amazing comic The Runaways. And before that, he created the superhero sitcom No Heroics. He talked to io9 about how those projects helped lead to Iron Man 3, and also addresses Iron Man 3's most controversial twists. Maximum…
The first Iron Man movie uses Tony Stark as a metaphor for American power, with Tony's near-lethal chest wound signifying his remorse at spreading weapons around Afghanistan. The brilliant Iron Man 3 makes this connection even more explicit, giving us an elaborate fable of post-9/11 America and a paranoid-but-cocky…
Last year, Rian Johnson's time-travel epic Looper had two versions — the U.S. cut, with a brief montage of Joseph Gordon-Levitt's time in China, and the Chinese cut, with a much longer Shanghai sequence. Now, Iron Man 3 takes this trend much, much further, as we move towards a future where China is increasingly…
The best thing about the Marvel movies is hands down the massive attempt the studios make to weave each comic book character together. Either with Easter Eggs, cameos and the beloved post credits scene. Thus just about every extra moments hasn't failed to impress, until now. An alleged recount of Tony Stark's final…
We didn't think we could get excited for another Iron Man movie until this moment. An early, exceptionally rough cut of the Super Bowl Iron Man 3 trailer is out, and it's a pretty impressive 30 seconds. Kiss Kiss Bang Bang director Shane Black is pulling out all the crazy action movie stops, and we're totally in.…
Looper opens in the United States today, but Chinese audiences will be seeing a somewhat different cut of the film. Director Rian Johnson filmed a key sequence in Shanghai, because Looper is a U.S.-Chinese co-production — and Chinese audiences will see a lot more of that Shanghai footage than we will. (In a similar…
Rumor has it Paramount has found a replacement director for the departing Jon Favreau, action-movie veteran Shane Black. This is not a huge shocker, since Black has been angling for this announcement ever since the amazing chemistry he bottled with Robert Downey Jr. on the set of his directorial debut, Kiss Kiss Bang…