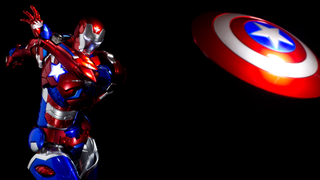 We've already gotten a pretty decent look at Sentinel's Re:Edit Hulkbuster toy in its prototype form, and it looked outstanding then—but this is our first look at the final figure, and it somehow manages to look even more fabulous now.
We got a few teaser pictures for Sentinel's latest Iron Man figure last month, but now the company have released a whole bevy of new photos of the wonderful figure, and it's looking good. Extremis-ly good, am I right?*
Yesterday we got a brief tease of Sentinel's latest Iron Man 'Re:Edit' figure, alongside their snazzy upcoming Hulkbuster toy - but now the company has released a full set of pictures showing off the Extremis Iron Man figure, and it's looking rather fabulous. And glowy! Very glowy.
Sentinel have long been known for their slick 'Re:Edit' Iron Man toys, but at Wonder Festival this weekend they lifted the lid on even more toys based on the Marvel legend - including a sleek, gorgeous Hulkbuster fit to rival Age of Ultron's brilliant rendition.
It's Toy Soul 2014 in Hong Kong this weekend, and that means there's amazing new toys to be seen from some of Asia's best collectibles makers. Here's some of the amazing new toys from the likes of Sentinel, ThreeZero, Hot Toys and more at the event.
The worst thing about Toy Soul 2014 happening this weekend is all the amazing figures that I can't buy, because they're literally 6 thousand miles away from me. Like this fancy new edition of Sentinel's already lovely Bleeding Edge Iron Man!