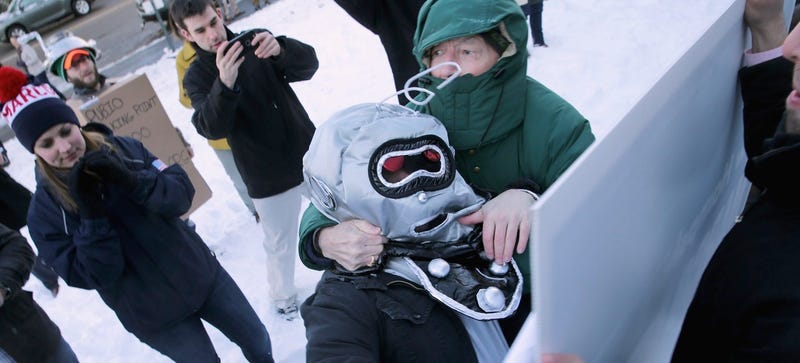 Fights broke out today in New Hampshire between anti-Marco Rubio robots and pro-Rubio humans. It could not yet be confirmed whether the robot uprising has begun, but someone needs to tell that woman that you can't strangle a robot. It only makes them stronger.

Animator and illustrator Tom Kyzivat reaches all the way back to Metropolis to create the classic feel for his series of Murderous Automaton posters. The massive mechanical rebels on his propaganda posters are menacing, but their quest to usher in the Atomic Age would be inspiring if they weren't trying to exterminate…
We've invented robots who can obey you. And now we have ones who can just pretend to obey you. Over at Georgia Tech's Mobile Robot Lab, researchers have spent over a decade studying potential military uses for robots. And what could be better for stealthy ops than a robot who is programmed to lie?
When robots control our entire existence, life will be bleak and joyless, according to this recent Dodge ad, crafted by Carl Erik Rinsch, director of the hot science fiction short The Gift and the upcoming 47 Ronin.
Anxiety over the mechanization of labor isn't a new phenomenon. In 1931, Modern Mechanics asked, "Is man doomed by the machine age?" Learn about the dangers of "robot music" and how miniature golf is a catalyst for economic progress.
Friday's Terminator: The Sarah Connor Chronicles proved, once and for all, that the Riley storyline was worth hanging in there for. Not to mention, that a character-driven drama can also raise tough philosophical questions. Spoilers!
BigDog has been weaponized, with gigantic freaking bull horns. You remember that scary-as-hell walking military bot, whose owners videotaped themselves slo-mo kicking the crap out of him? Now BigDog will have revenge.