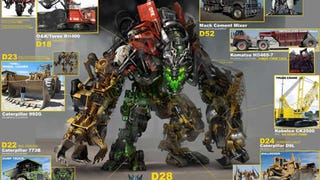 If Revenge of The Fallen's Devastator looks more like CGI trickery than a convincing combination of construction vehicles, perhaps this piece of concept art showing what goes where will explain the thinking behind the even-more-giant Transformer. [Seibertron.com]
...But not close enough. Surprising many - and frustrating Paramount executives, no doubt - Transformers: Revenge Of The Fallen is now expected to fall just short of the five-day box office record set by last year's The Dark Knight.
Transformers: Revenge of The Fallen's Wednesday midnight opening broke box office records by $16 million with its first screenings, becoming the largest Wednesday midnight opening ever... and the third biggest midnight opening of all time.
We're not saying that the Earth may actually come under attack from giant robots, but if that were to happen, apparently Transformers: Revenge Of The Fallen would be a surprisingly realistic portrayal of how the US military would fight back.
Worried that Transformers: Revenge Of The Fallen may be a rushed, incoherent mess of a movie saved only by the spectacle of Michael Bay's philosophy that more explosions is never a bad thing? You may have reason to fear: the movie's writers have revealed the panic to finish the script.
Paramount is screening footage of their big 2009 movies for international press, and the resulting buzz on JJ Abrams' Star Trek is very positive - and that's before you learn about the full-length trailer for another much anticipated movie that's going to be accompanying it into theaters next May. Are you ready for a…
Click to view
Peter Cullen was the voice of Optimus Prime in the 1980s cartoon version of , which may have given him the chance to rewrite some of the lines from Michael Bay's big-screen take on the character. But just where did Cullen - who also voices Eeyore in Disney's movies - get that authoritative and commanding…
The long line of heroes with damaged hands will grow by one with the release of Transformers: Revenge Of The Fallen, according to new rumors from the set of the heavy metal sequel. Proving that art mirrors real life mirrors the reality of shooting schedules, Shia LeBeouf's character Sam Whitwicky is set to gain his…