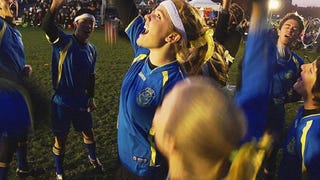 Coming to On Demand and a limited theater release in October is Mudbloods, a documentary about the real-life Quidditch clubs popping up all over college universities. It's both endearingly earnest and unquestionably weird, but there is something undeniably compelling about this level of devotion.
Science fiction and fantasy are full of weird games, from Quiddich to Pyramid. There are games of death. There are games of skill. But most of all, there are games that you'd have to be nuts to try and duplicate in real life.
These Hogwarts travel posters by Caroline Hadilaksono have a retro charm, but I would've loved to have seen some Dementors advertising seaside views. Prints are available at her website — click on the lower-right corner to expand the above photo.
Gather your quaffles, capes and brooms - Quidditch could be a mere wand-stroke away from joining the NCAA, if the numbers of teams keep growing. College students have taken their intramural Quidditch hobby to a whole new level this year: Droves of wizards and witches gathered at the second Intercollegiate Quidditch…