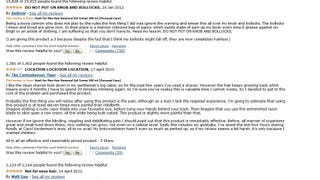 And no, that's not an exaggeration. The reviews for Veet for Men Hair Removal Gel, over at Amazon UK are both alarming and sort of encouragingly insane. They leave you with a sense that the spirit of heedless exploration and devil-may-care experimentation that built our industrial society remains fully intact, because…
NASA may not have spent its own money to develop the million dollar space pen, but the space agency did change your life in countless other ways. Over the years, NASA's technology has led to countless innovative products that you use every day. Some you'd expect, and some you... definitely wouldn't.
Intensify forward rain protection power! Just imagine how stylishly dry you'd be with this Imperial Star Destroyer umbrella, as imagined by the maniacs at One More Gadget. If only this were a real product. [One More Gadget]
Will corporations still market to consumers at the end of the world? Designer Carl Bender certainly thinks so, and his series Anarkon imagines the sorts of products companies will try to sell consumers after the apocalypse, complete with pretty packaging.