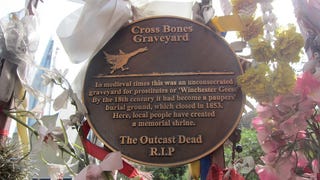 London's Cross Bones Graveyard dates back to the medieval era, and is the final resting place for some 15,000 paupers, prostitutes, and other "outcasts," including children and infants. Despite a colorfully decorated gate, the run-down lot hasn't been accessible to the public. That's about to change.
Here's one for the history buffs: the Washington Post has some gorgeous, poignant, frozen-in-time photos of a room last occupied in 1918, by a 22-year-old soldier who died in World War I.
During the ice ages of the last one million years, sea levels dropped as much as 400 ft., increasing the land area of Europe by 40%. That terrain, once home to early humans, is again underwater, and archaeologists have identified artifacts at 2,500 sites. But all of it is threatened by erosion and offshore projects.
Say hello to the technicolor dream cadavers of Iori Tomita. By combining classical specimen preservation techniques with meticulous staining methods, the Japanese artists transforms fish, squid, turtles and even chameleons into a menagerie of multi-colored hell beasts. Go ahead and take a peek — you've never seen…