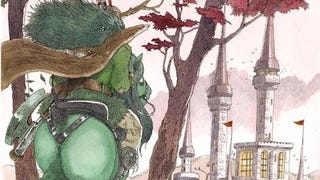 Zach Weiner, creator of the smart and hilarious webcomic Saturday Morning Breakfast Cereal, has written a children's book, and you can help bring it into the world. You can also fund a movie adaptation of one of the web's smartest comics, a fan film about Harry Potter's Mauraders, and more!
Jorge Cham of PHD Comics animated this wonderful speech the Apollo 11 commander gave back in 2000. In it, Armstrong proclaims he's proud to be a nerdy engineer, lists engineering's many 20th century accomplishments, and explains why he has hope for the future. It's not just inspiring, it's genuinely comforting.
Earlier this year, Jorge Cham of the webcomic PhD Comics explained the Higgs Boson by combining narration from physicists with his own artwork. In his latest video, The Fingerprint of Stars, Jon Swift, Ben Montet, and Melodie Kao of CalTech's John Johnson Exoplanets Laboratory explain why different stars appear to…
If you're still a little fuzzy on what the Higgs Boson is or why particle physicists are so keen on finding it, check out this video by PhD Comics creator Jorge Cham. Cham gets the low-down from CERN physicist, and conveys the significance of the Higgs Boson and the role of the Large Hadron Collider in comic form.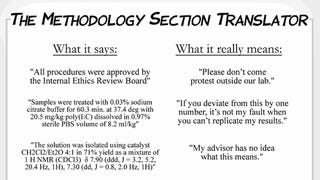 Grad students in every field develop a linguistic armor against uncomfortable scrutiny. Fortunately, where lab-bound research monkeys are concerned, PhD Comics' Jorge Cham is here to translate, explaining when grad students left work to grab a couple beers and when they just don't want you protesting their lab.
If you're a grad student, were once a grad student, know a grad student, or just enjoy hearing about all the crap that grad students have to go through, and you haven't read Jorge Cham's Piled Higher and Deeper Comics (aka PHD Comics), then you should probably just skip work early and go do that for the rest of the…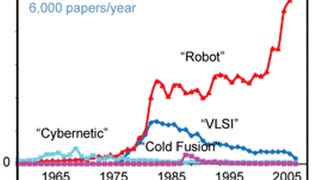 When did robots become more popular than cold fusion? Will nano out pace micro as academia's prefix of choice? PHD Comics charts out the changing popularity of various buzzwords in academic papers over the years.