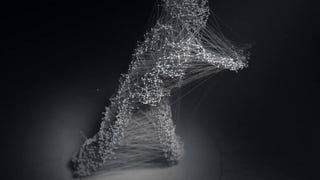 Artists Maria Takeuchi and Frederico Phillips' Asphyxia is more than an experimental dance film; it's also one of the more creative uses of Xbox One Kinect's motion-data capture capabilities we've seen.
A few weeks ago, Matthew Bourne's Sleeping Beauty: A Gothic Romance ended its tour in Los Angeles, California. Much has been made of the way the well-known story was changed, but what was really striking was that the ballet actually felt like the natural collision of two of the biggest trends of the last decade:…
We've been fans of Sue Lange's writing since we came across her unsettling chapbook We, Robots, from Aqueduct Press. And now if you're in Landsdowne, PA later this month, you can see her do a beat-poet-inspired reading of her new story collection Uncategorized, with musical accompaniment by guitarist/vocalist Gary M.…
We were sad our favorites were snubbed when they handed out the Grammys last night, but at least the monsters ruled the show. Tron outfits, doom squads and Lady Gaga clawed their way to the top. Check out our gallery.
Industrial robot monster fight troupe
Survival Research Labs (SRL)
is 30 years old, which officially means that there are death machines out there old enough to have kids who are obsessed with . SRL, run by designer/artist Mark Pauline, has put on so many glorious, firey, illegal shows over the years that they've…