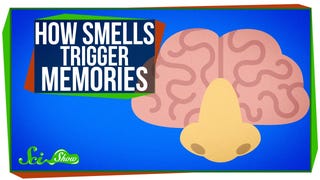 Smells are really good at stirring up memories, especially ones from adolescence. Which is curious, because these memories are often the hardest to access. In the latest episode of SciShow, Hank Green reviews some of the research on why smells are such potent triggers of early memories.
The sensory chaos of battle has always posed a challenge to armies hoping to prepare for—and recover from—war. And while it's clear to most people how sight and sound factor into a soldier's experience and memory of battle, the smells of combat were, for most of history, largely ignored. But by the eve of the 20th…
Last year, a paper published in Science made waves with the stunning claim that the human nose can detect a whopping one trillion different odors. But if you feel like your nose can't detect a trillion smells, you may be on to something. It's possible that none of us can.
"The human sense of smell is far better at guiding us through our everyday lives than we give it credit for," said cognitive neuroscientist Johan Lundström. He was referring to what he and a research team just discovered, which is that humans can actually tell how much fat is in their food just by smelling it.
It's not hard to tell when you've walked into a room, or a house, in which a person is sick with with a flu or a bad cold. There's an immediate smell of stale sweat, cough medicine, and human misery. But can it be done with other diseases? According to doctors, there are some diseases, physical and mental, that can be…
Do you find yourself completely lost whenever your friends go off on long-winded descriptions of a wine's aroma and bouquet? Well there may be hope for you yet, you uncultured brute. A new animal study — wherein researchers trained rats to distinguish between three very similar, albeit different, smells — suggests…
For over a century, our sense of smell has been explained with the "lock and key" hypothesis, which holds that each odor molecule has a particular shape that allows it to fit into particular smell receptors in the nose. But now a controversial study involving fruit flies suggests that hypothesis might miss the truth…
This handheld device, which looks sort of like an old-fashioned iron, is one of the most sophisticated artificial noses ever created. It's used in industrial settings where you need to "smell" chemical leaks or toxins to know when they've happened. The best part? This nose, called the ScenTrak, uses a smear of…