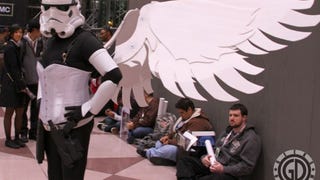 Winged Stormtrooper via Geeks of Doom.
To return to the original post click here.

Poney Killer. To return to the original post . To return to the original post . To return to the original post . To return to the original post . At first we thought this was Peter Jackson's Sumatran rat-monkey, but he…
Neverending Story via Kimberly S Twitter.
Wonder Boy via . April O'Neil via Lo Pan via Chairface Chippendale via A Goofy Movie Cosplay? Hello Kitty Street Fighter via
At this year's New York Comic-Con, we had the opportunity to sit down with Venture Bros. brain trust Jackson Publick and Doc Hammer to discuss their upcoming Halloween special and fifth season (which hits in 2013). Here are nine assorted facts we learned about the Adult Swim, purposefully arranged in no particular…
Just a sweet little moment we had to share with you from the Firefly panel at New York Comic-Con. Jewel Staite and Sean Maher were together toasting to the 10-year reunion and talking old times in the big black. They were joined "by phone" by Nathan Fillion. But the joke was on Jewel; Fillion was there the whole…
Ever since we heard about Joss Whedon's S.H.I.E.L.D. TV show, we've been hoping against hope that Clark Gregg's Agent Coulson would appear, despite the events of The Avengers. At today's Marvel television panel, Joss Whedon and Kevin Feige announced that Clark Gregg will in fact be headlining S.H.I.E.L.D..
The first ever footage of the remake Evil Dead screened at New York Comic-Con, and it is fucking crazy. We were on the fence as to what this movie would look like, and if the bit of footage just shown to the masses at NYCC is any indication, you guys might like this take on the old classic. Spoilers ahead.
Jon Snow will be eating, sleeping, and living with the enemy, in the upcoming season of Game of Thrones. But does that mean that we'll be seeing a darker version of Eddard Stark's bastard? We caught up with Jon Snow himself, Kit Harrington, who hinted at the terrible deeds we'll be seeing beyond the Wall.
In the upcoming giant-monsters-versus-giant-robots film Pacific Rim, the audience is tossed into the slugfest years after it's been raging. But to flesh out this grimy world where the human race fights for its own survival on the daily, the minds behind Pacific Rim are collaborating on a graphic novel prequel.
On the opening day of New York Comic Con, Batman and Swamp Thing scribe Scott Snyder caught up with io9 to discuss Death of a Family, a new story about The Joker exacting revenge on the Dark Knight's pals. (Also, The Joker's face has been completely carved off and affixed to his head with a belt. He really must stop…
For this year's New York Comic Con, Dark Horse Comics Editor-in-Chief Scott Allie and artist Juan Ferreyra collaborated on a jam piece depicting various Dark Horse horror characters — such as Hellboy, The Goon, and the vampires from The Strain — tippling (booze and blood) at a creepy bar. Here's the artistic process…