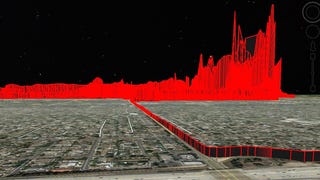 Since a gas leak erupted outside LA on October 23rd, over 83,000 metric tons of methane have escaped to the atmosphere, prompting public officials to evacuate the neighboring community of Porter Ranch. But as a disturbing new analysis shows, a much broader swath of LA is now drowning in methane.
One of the worst environmental disasters of the decade is currently underway in a quiet community 25 miles northwest of Los Angeles. Putrid, methane-rich natural gas has been spewing into the air at an estimated rate of nearly 1,300 metric tons per day for over two months. Experts are calling it the climate version of…
One of the big questions for the twenty-first century is what our biggest source of energy will be. Many are betting on natural gas, because it's cheap and plentiful. Unfortunately it emits dangerous carbon into the environment. The sustainable alternative is solar, but that was deemed too expensive — until now.