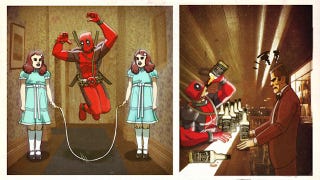 What happens if you throw superheroes and supervillains into Stephen King stories? The Hulk adds a bit more literalism to The Green Mile. Harley Quinn manages to make Misery even more insane. And Deadpool? Deadpool's just having a blast.
Harley Quinn and The Joker in by . Deadpool in by . Mouse Guard and by .
When they aren't protecting their fellow rodents from fearsome predators, the mice of David Petersen's comic Mouse Guard are playing at being other characters — flying the Watchmen Owl Ship, snatching ancient idols à la Indiana Jones, or trying their tiny paws at the X-Men fastball special.