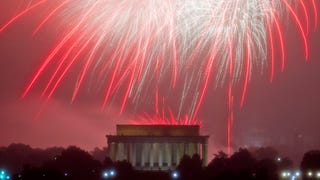 There are a few things that make America great, and blowing shit up on the Fourth of July is one of them. So when PBS decided to digitally add stock footage of fireworks to its "live" coverage of the Capitol's Independence Day celebration, some viewers were left unimpressed. Faking shit? Very Un-American.

Did you believe Michael Bay when he said Transformers 4 would star "brand new, re-envisioned and remodeled Autobots"? Did you think that perhaps the Transformers would return in some way to the iconic designs of your youth? Did you think Bay might at least drop Optimus' flame decals, the truck equivalent of tribal…
We've long shed the idea that the animal world is a noble one, untainted by the supposed sins of humanity. But some people still cling to the idea that it's an honest one. They're wrong. Animals lie, it seems, all the time. Not as an instinctive defense, but as a sneaky way of getting what they want. Let's examine all…
Candid camera ghosts are all the rage, and it's time we paid respect to the on-camera spirits that paved the way for popular films like Paranormal Activity. Here are the best of the best from YouTube: you be the judge.
There's a rumor floating around that George Lucas wants to produce another Star Wars trilogy, with Stephen Spielberg and Francis Ford Coppola directing. Also it's raining ice cream, Firefly is back, and I can fly.