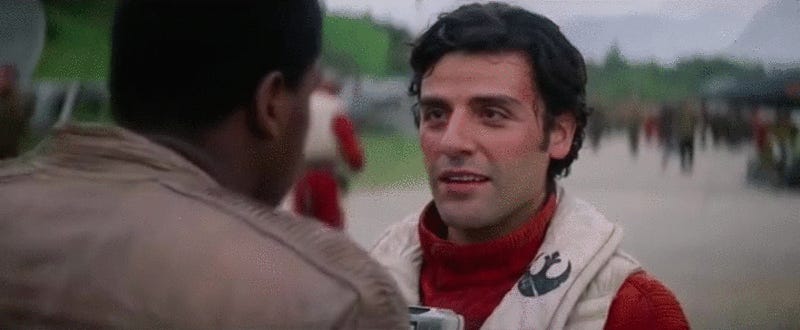 Every year, the Gay & Lesbian Alliance Against Defamation (GLAAD) releases a "Studio Responsibility Index" that analyses the visibility of LGBT characters in the last year of movies. It was not a great year for Disney—but GLAAD has pointed to a galaxy far, far away where they could easily make some improvements.

When All-New X-Men #40 released, a major topic of discussion was the fact that a younger, time-displaced Bobby Drake, a.k.a. Iceman, came out as gay. But ever since, fans have wondered if this meant the present-day Bobby was simply in the closet, or maybe not gay at all. Seven months later, we finally have the answer.
When Wildstorm became a DC Comics imprint, Midnighter became one of DC's greatest gay characters. As part of DC's recent publishing revamp he's finally gotten a new solo series, a first in nearly a decade—and so far, Midnighter represents one of the best portrayals of an out superhero in comics right now.
This week saw the launch of Constantine: Hellblazer, a new DC ongoing series for everyone's favorite British Occult Detective. And while its first issue is enjoyable in and of itself, it has one notable little element to it: The comic is portraying John Constantine's bisexuality more openly than ever before.
【The following was originally posted on The Mary Sue (Abrams Media Network) and has been republished here with permission.】About a year ago, I went with friends to see a live reading of Welcome to Night Vale and was shocked by the amount of screaming coming from women in the audience.
In a tweet response that really should surprise no one, Harry Potter author JK Rowling has officially confirmed that yes, there were indeed lesbian, gay, bisexual, and transgender students at Hogwarts. In fact, the only group she didn't imagine existing at the wizarding academy were Wiccans. Sorry, neopagans!
In response to a Star Trek writer's excellent rebuttal to a homophobic reader, we've had a lot of discussions in the last 24 hours about diversity in science fiction, how Star Trek should show a wider ranger of sexualities onscreen, and why alien sexuality and reproduction shouldn't necessarily resemble that of humans.
We're in San Francisco club called Stud, and there are people in fur suits everywhere. Colored lights and crashing beats flash like fireworks in a thunderstorm. Everyone is sweaty and drunk, but most of all they're happy. Ladies and gentlemen, I give you GaymerX, my favorite game convention—and also maybe the last…
Less than three days since the controversy surrounding DC Comics' refusal, we have a great non-explanation explanation from the DC brass about why the publisher refused to allow characters Kate Kane (Batwoman) and her partner, Gotham City police officer Maggie Sawyer, to marry each other. You ready? (I mean, it's so…