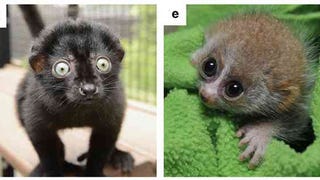 Meet Hiddleston. The blue-eyed black lemur was born at the Duke Lemur Center in March 2013. Since then, Duke researchers and students have recorded every detail of his life in their logbooks. Now, the Lemur Center is setting that data free, along with data for 3599 other lemurs that have called North Carolina their…
The San Francisco Zoo recently introduced its lemurs to some pink plastic flamingos. The results were predictably adorable, but the flamingos weren't just decoration. They're an effort to give the lemurs a bit of mental exercise.
I have absolutely no clue who YouTube user 4u2roos is, but his or her channel — which is filmed at the Exotic Experience in Orlando — is brimming with videos of lemurs, dogs, kangaroos, tiny deer, and small horses acting adorable, usually in concert.
In the Sahafina Forest in eastern Madagascar, a joint German-Malagasy research team has discovered a new species of primate they've dubbed Gerp's Mouse Lemur (Microcebus gerpi). Named after Madagascar's Groupe d'Étude et de Recherche sur les Primates de Madagascar and weighing in at 68 grams, Gerp's trumps the…
Scientists fed female lemurs birth control pills, and discovered that it distorted their scent to the point that males were no longer interested in having sex with them. We get this little tidbit about the study, from Science News: