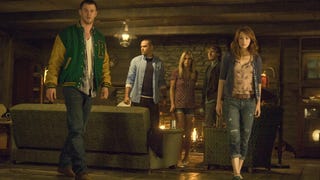 The Cabin in the Woods was one of the most original takes on the "kids encounter scary things in the woods" story that we've seen in ages, but one man is claiming that it's not original at all. Author Peter Gallagher is suing the filmmakers, claiming that the film is infringing on his 2006 novel The Little White Trip:…
It's not a huge shock that Marvel and its parent company, Disney, are not happy that the Age of Ultron trailer that was supposed air during Agents of SHIELD got leaked a week early. So they've turned to the page in the angry corporation playbook labeled "invasive legal action."
Did the floating mountains and otherworldly landscapes in James Cameron's Avatar remind you of artist Roger Dean's fantastical paintings? Dean certainly thinks there's more than a passing resemblance. He's suing the director and 20th Century Fox, claiming Cameron based Pandora on Dean's artwork.
Can a fantastical movie be too historically accurate? Dr. Jaime Awe, director of the Institute of Archeology of Belize, has filed suit against Lucasfilm and Paramount Pictures claiming that the prop skull from Indiana Jones and the Kingdom of the Crystal Skull bears a striking resemblance to one of the "real" Crystal…
The legal battle between DC Comics and the heirs to co-creator Jerry Siegel now looks like the prelude to a much larger battle over comic book IP: Jack Kirby's heirs now want their rights to, well, the entire Marvel Universe.
Jared Diamond, author of Guns, Germs, and Steel, is being sued by two Papua, New Guinea, men who claim the award-winning science writer lied about their lives to prove that tribal culture is violent.
A Thai businessman who was claiming to be the co-creator of Ultraman has been ordered to cease and desist all Ultraman activities (how cool does that sound?) and to pay 10.7 million Thai baht to Japanese Tsuburaya Productions, rightful owners of the Ultraman legacy. For more than 10 years Sompote Saengduenchai has…