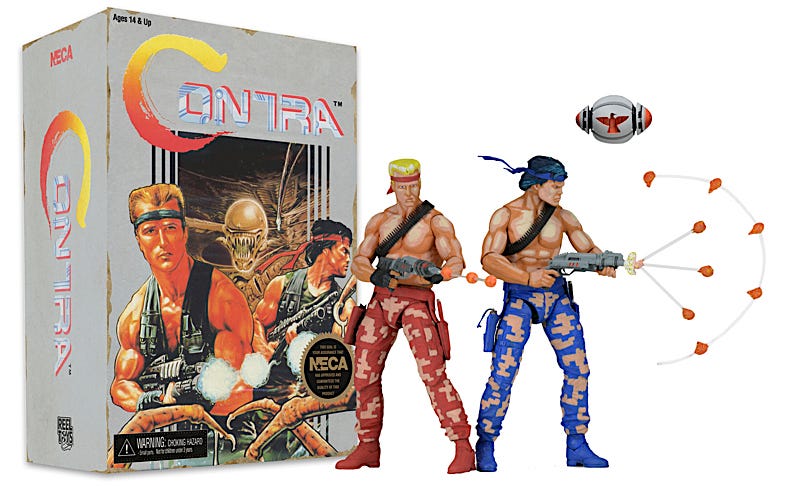 It was one of the first NES games to include the well-known Konami code (up, up, down, down, left, right, left, right, B, A) and now thanks to NECA, Contra fans can finally own action figure versions of the game's main characters: Private First Class Bill Rizer and Lance Bean.
There's a cutscene, late in Metal Gear Solid V, that's ostensibly serious but contains a musical interlude so awkward it sent me into giggle fits. A dozen missions later, there's a harrowing sequence that ranks among the best video game scenes I've ever played. If you don't know how to reconcile those two things,…
For the past few days, I've done very little but play Metal Gear Solid V: The Phantom Pain, a new video game made by the well-known spa company Konami. I've been sneaking and shooting through deserts and forests. I've infiltrated bases, crippled soldiers, and taken four showers. It has been wonderful.

Metal Gear lore is remarkably complicated and goofy. Michael Huber at GameTrailers tries to quickly sift through it all and distill it down to the main points. I think it pretty much works! There's a ton of noise in these games (I mean Para-Medic talked about movies so much, and that one guy kept shitting his pants,…
A plane crashes on a mysterious island, where the past and present collide. No, it's not Lost, it's Singularity, an upcoming game. Watch the trailer, plus Metal Gear Solid and Lost Planet 2 trailers, below.