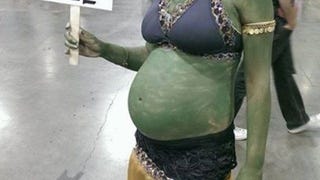 How's a Starfleet Captain supposed to get over breaking the Prime Directive to save his First Officer? Well, as Kirk reveals near the beginning of Star Trek Into Darkness, having a threesome really helps. Concept artist Mauricio Ruiz recently revealed these potential designs of the twin aliens who shared Kirk's bed.
Back in April, we told you about a Kickstarter project designed to send Starship Captains Kirk and Picard on their first real-life trip to space. Conceived by space enthusiast Logan Kugler, the project aimed to lift action figures of the two captains (and a few lucky crew members) to an altitude of over 100,000…
We saw Spock throttle Kirk in a previous Star Trek trailer, and now he's hugging Uhura. It may be illogical, but he's a tactile Vulcan. Oh, and there are kick-ass space battle scenes. Fire everything!
Last week, J.J. Abrams told AMC's
SciFi Scanner
that he had hoped to give William Shatner a cameo in the upcoming movie. But, aside from the logistical problem of casting an actor whose character died well over a decade ago, Abrams claims that Shatner refused to appear in a mere cameo role. That's news to Shatner…
Paramount is screening footage of their big 2009 movies for international press, and the resulting buzz on JJ Abrams' Star Trek is very positive - and that's before you learn about the full-length trailer for another much anticipated movie that's going to be accompanying it into theaters next May. Are you ready for a…