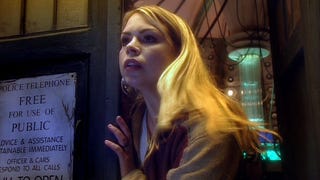 Doctor Who's Rose Tyler is coming back to genre television! Billie Piper has just signed on to star in Penny Dreadful, a show set in Victorian London featuring Victor Frankenstein, Dorian Gray and other terrifying figures of gothic literature. Can she do for gothic lit what she once did for the Daleks?
Didn't get your fill of awkward CG movie-making from The Spirit? Then watch the trailer for Bunraku, which has an amazing cast: Josh Hartnett, Demi Moore, Woody Harrelson, Ron Perlman and Kevin McKidd. But a very sour Frank Miller taste to it even though it was written and directed by Guy Moshe.
After zombies, vampires and werewolves, it's time for cowboys. In addition to Fox's new western SF show, Josh Hartnett has signed on to head up a new indie movie that's taking the western genre into familiar post-apocalyptic climes.