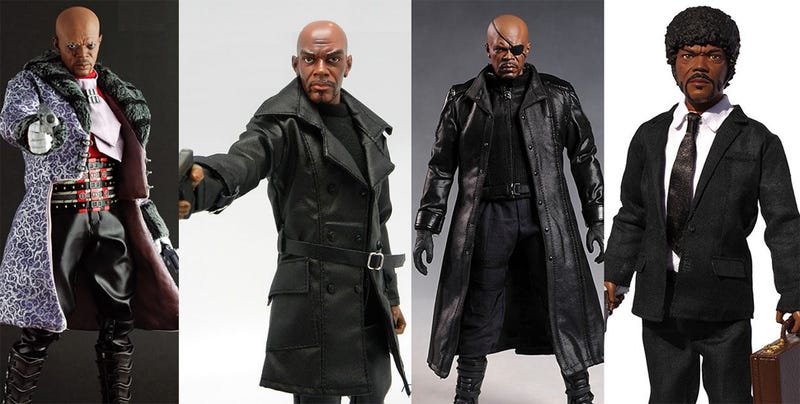 Sorry, William Shatner and Harrison Ford. There might be hundreds of action figures of Captain Kirk, Han Solo and Indiana Jones—but you don't even rate a place in this particular action figure hall of fame. When it comes to playing the most different characters who got an action figure, the prize goes to some other…
Simone Missick discusses what sets Luke Cage apart from the other Marvel Netflix shows. Robert Downey Jr. returns to Sherlock Holmes. The BBC teases the arrival of Doctor Who's new companion. Plus, new Humans season two casting, new Game of Thrones pictures, and petrifying Alice Through the Looking Glass posters.…
In an attempt to create a movie that would sweep the Academy Awards, Jimmy Kimmel put together a nine-minute film trailer that includes just about every genre and everyone in Hollywood — including a robotic Tom Hanks, Jeff Goldblum, J.J. Abrams, Gary Oldman, Helen Mirren on a hovercraft, a runaway meteor, and Air Bud.
Last weekend, The JP "Just People" Show ran in Los Angeles. This gallery showcase consisted of a series of portraits focusing on the human side of Jurassic Park. Here are some of the kookier pieces. Let's start it off with this lovely Dr. Ian Malcolm portrait by John Larriva. For $500, this objet d'art could be…
In the 1996 children's PC game Goosebumps: Escape from Horrorland, Jeff Goldblum played an inappropriately sultry Lord of the Vampires. Watch as the one and only Brundlefly seduces the game's pre-teen protagonist with a sensual dance.
Must-see movies are futuristic classics that shouldn't be missed. Of course, not every must-see is perfect. That's why we've rated them 1-5 on the patented "crunchy goodness" scale. Written by Jason Shankel.

Title: Invasion of the Body Snatchers
Date: 1978

Vitals: Evil space flowers convert the Me Generation™ into…