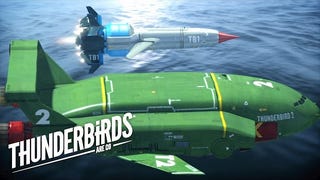 We've had teasers for a while, but the first trailer for Thunderbirds Are Go!, ITV's remake of the classic British puppet series Thunderbirds is here — and it's packed with beautiful practical models, slightly creepy CG people, and plenty of nods and winks to the classic works of Gerry Anderson. Check it out!
First came the teaser trailer, then the unsettling first look at the characters. Now, here's your chance to journey into the uncanny valley (ok, Tracy Island) from whence the new Thunderbirds Are Go! characters will emerge when the reboot debuts later this year on ITV.
ITV in the UK has announced a 10-part Jekyll and Hyde series. As is traditional by now, it has been reimagined. This time by Charlie Higson (The Fast Show, Randall and Hopkirk (Deceased)) as an action adventure. [Coming Soon]
In spite of all the criticism Hollywood has faced recently for its awful female-to-male director ratio, women are still being widely discriminated against in the film industry. Maybe, being a generally optimistic person, you might be inclined to think that things are a little more equal outside of the US. What about…
Those excited by the cliffhanger ending of UK time-travel series Primeval's third season may want to prepare themselves before reading the next sentence: ITV have announced that the show won't be returning for a fourth season on the network.
He's played an undead Englishman, a time-traveling dandy highwayman and an evil alien supercomputer made flesh, but if rumors are to be believed, James Marsters' next role will see him play a regular human, but not one more down to Earth. Yes, dear readers, next year, it may very well be the case that James Marsters is