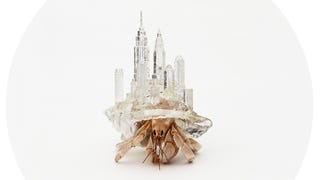 Hermit crabs travel with their houses on their backs, so why not an entire city? Aki Inomata's photo series gives hermit crabs 3D-printed shells adorned with architecture from various nations, giving the impression that these crabs are world travelers.
If you still bear painful childhood memories of returning from elementary school only to discover that your pet hermit crab was surreptitiously whisked away to Papa Jehoshaphat's Hermit Crab Corral three states away — which is, incidentally, staffed entirely by crustacean-loving orphans — the following footage may…
When I was little, I fascinated by hermit crabs, tugging them out of their borrowed shells so I could see the soft bodies within. If I'd had access to Robert DuGrenier's blown glass shells, I might have spared many a hermit crab from trauma.