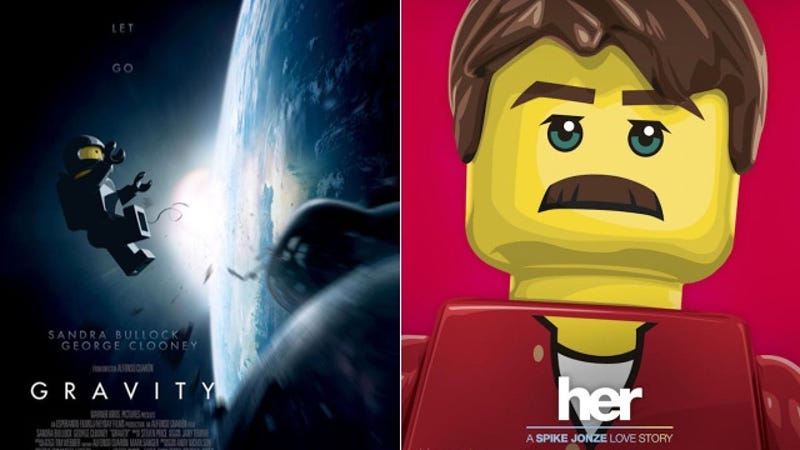 Had enough of Lego-fied movies? Too bad! The Lego Movie being the unmitigated success that it is, the folks at Yahoo! Movies decided to commission Graphic designer Old Red Jalopy to create a series of LEGO-themed movie posters for the 86th Academy Awards' Best Picture nominees. Not that we're complaining – they're…
Having finally seen Her, I'm surprised to find the distinct lack of chatter this film is generating among genre fans. This film takes an existential look at the (potential? inevitable?) singularity, and shows viewers the future of video gaming. Be warned, there be spoilers here (although not about the main plot).
William Butler and Owen Pallett of Arcade Fire are getting a lot of attention for the melodious score they created for Spike Jonze's Her, and not just because it landed them an Oscar nomination, but simply because it's gosh-darn gorgeous. And now you can listen to the entire 13-song soundtrack here and now.
A wonderful new trailer for Spike Jonze's upcoming movie Her has arrived, detailing more of the blossoming romance between a Scarlett Johansson-voiced artificial intelligence and a lonely writer named Theodore. I'm not sure which is the scifi part, though: that a man could fall in love with his computer, or that an…
Spike Jonze is back to making movies about grown-ups, after the bizarre and somewhat polarizing Where The Wild Things Are. And his new movie, reportedly titled Her, is commenting on our relationship with technology in a way that sounds really fascinating: A man falls in love with the operating system on his phone,…