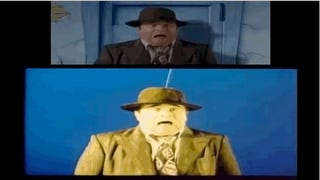 We were saddened to learn that Who Framed Roger Rabbit? star Bob Hoskins passed away last night, and this video shows just how game an actor Hoskins was—turning himself into a human cartoon as he acted against a blue screen.
We're stunned by Stargate Studios' demo reel, which basically breaks down all their TV green-screen trickery. Everything our TVs show us is a lie. Everything! It's unnerving how much actual scenery green screens have replaced on television. [via EW]
One of the most challenging aspects of filmmaking is matching shots against green-screens, with backgrounds added in post-production. Now, Roomba co-creator Eliot Mack has devised a way to integrate the virtual backdrops seamlessly with scenes as they are shot.
Missed the first season of Syfy's series starring monster hunters and protectors, Bigfoot, and a vampire Nikola Tesla? The upcoming Sanctuary DVD set features all 13 episodes from the show's first season, as well as the eight original webisodes used to sell the series to Syfy. Plus, one of three "making of"…
Sanctuary, the new series from producers Damian Kindler and Martin Wood premieres tonight at 9 p.m. the SciFi Channel. Starring Amanda Tapping, the show concerns itself with all the creatures you were afraid to see in your bedroom when you opened those cute little eyes of yours. We got a sneak peak at the two-hour…
At the panel about Journey to the Center of the Earth, Brendan Fraser was on hand, along with producer Charlotte Huggins, "3D expert" Ed Marsh. Brendan Fraser spent most of the time extolling the virtues of James Cameron's new Fusion camera system, which they used to make this. Despite being sick, Fraser spent a lot…
Amanda Tapping (Stargate SG-1) plays the protector of downtrodden monsters in Sanctuary, soon to appear on the Sci Fi Channel. Her character, Dr. Helen Magnus, is a "cryptozoologist" who creates the Sanctuary Institute to protect and study the mutants that skulk around her future dystopian city. Sanctuary is the first
The Wachowskis' Speed Racer movie backgrounds will be all greenscreen like 300, says star Emile Hirsch. All except for Chim Chim the monkey, which is real. And presumably flung its poop at the pristine green walls. [Empire]
Dave "Heartbreaking Work of Staggering Genius" Eggers collaborated with director Spike Jonze on…
Can a hi-def sci-fi show succeed by going direct to the Web? Stage 3 Media is gambling that it can. In an interview at VIdFest in Vancouver, Stage 3 CEO Damien Kindler talks up the audacious gamble that is Sanctuary. Sanctuary is the highest budget direct-to-Web show ever, and the first show to be made entirely using…