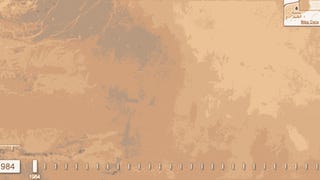 Chances are, this is how you will be spending the rest of your day. Google Earth Engine is an incredible satellite tour through the recent history of our planet, showing year-by-year images from 1984-2012. Watch as cities expand, glaciers retreat, and seas vanish in a matter of decades.
Last summer, Google took its Street View cameras to the Amazon, looking to capture the same 360-degree vistas that have made the technology so useful in cities all over the world. Yesterday, the project went live. There goes the rest of your week.
If you use Google Earth to look up the Salfords Lads Club in Manchester, England, you'll find a famously coiffed squatter in this virtual world. Punch in "St Ignatius Walk, M5 3RX" on 3D Buildings mode and you'll see a pixelated incarnation of Morrissey, The Smiths' loud-mouthed pontificator, forever standing smugly.
August 9 is the 65th anniversary of the day the US dropped "Fat Man" over Nagasaki. The Nagasaki Atomic Bomb Archive has created a Google Earth map that documents where survivors were in relation to the blast.
This crater, located in a remote area of the Sahara desert, was discovered by researchers using Google Earth. And that's actually not even the coolest part. Kamil, as the crater is called, may be the world's best preserved crater.
To celebrate the anniversary of the moon landing, Google has added the moon to the list of celestial bodies you can visit on Google Earth. The latest version features both Martian and lunar geography, including mission sites. [Google Earth]
Musicals, mutants and the hidden secrets available to us all on Google Earth. Hey kids, what can I say... They're all disasters.