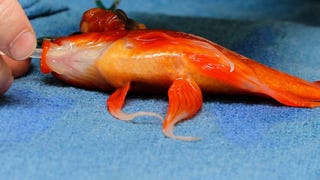 The BBC is reporting that a goldfish in Australia is now recovering from a successful surgery in which a tumor was removed from its brain.
Conservationists from the University of Nevada are increasingly finding oversized goldfish in Lake Tahoe— and they're attributing it to the practice of aquarium dumping. The hardy goldfish, a relative of the asian carp, can grow to 1.5 feet or longer, and they're starting to become a menace to the lake's ecosystem.…
YouTube user synirr had one goldfish who just couldn't maintain her buoyancy. So she outfitted the fish with a special buoyant sling that let Goldie swim around her tank, paddling about with her front fins.
Chris Jones spent eight years animating his moody and quirky short The Passenger, and now it's available online. It's a dark and stormy night, and a nervous chap rides a bus with only a spooky goldfish for company.
Sadly, Jumper, the teleportation movie coming Valentine's Day, isn't based on Jumpers, Tom Stoppard's 1972 play about murder on the moon. But it seems as though the movie may ask the same questions as one of Stoppard's craziest plays: Do our laws apply to someone who can escape from any human jurisdiction? Is morality…