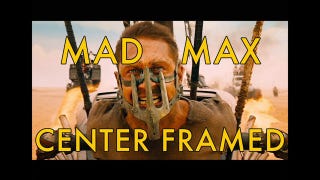 Mad Max: Fury Road has earned considerable acclaim since its release, and over on his blog, commentator and editor Vashi Nedomansky highlights how George Miller and his team composed the film to make the most visual sense.
In just over five minutes, Jacob T. Swinney's film contrasts the opening and closing shots of 55 films, from The Tree of Life to The Usual Suspects. Some are quite abstract. But the number you will be able to ID (especially if you've watched a lot of indie/art-house movies in recent years) may surprise you.
There are many reasons why Birdman is so good. But one the ones that's harder to explain is the way the movie is shot and edited to look like a single long take. Variety talked to the film's digital colorist, Steve Scott, about how they achieve this effect.
If you are looking for an antidote to the pyrotechnics and computer generated effects of summer blockbusters, look no further than Segundo de Chomón's century-old films, which depict space travel using painstakingly handcrafted optical trickery.
If you're in the U.K. and have always wanted to make a scifi movie in two days with a bunch of your pals, it's time to test your fast-movie fu. Scifi film geekfest Sci-Fi London is launching its "48 Hour Film Challenge" on April 5th at the Apollo West End. Entrants will be given a randomly-generated film title, some…
The upcoming Michael Gondry comedy starring Jack Back and Mos Def Be Kind Rewind features no-budget recreations of films like Back to the Future, 2001: A Space Odyssey, RoboCop, and Ghostbusters. In fact, their RoboCop looks better than the original film did. Jack Black really nails Peter Weller's robo-monotone. That…
The Sundance Film Festival enters its 27th year in January, and the organizers just announced the lineup of films for this year. They include only two vaguely science fictional films: The Broken and Timecrimes. This is part of a trend: Sundance tends to shun science fiction films in general, despite the fact that…