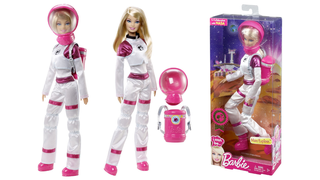 The Red Planet is about to get a lot more pink (sorry, couldn't resist). Introducing Mars Explorer Barbie, a new spacesuited version of the famous fashion doll that was launched this week to commemorate the first anniversary of NASA's Curiosity rover landing on Mars.
If brain-eating zombies ever regain their sentience and take to crafting porcelain knick knacks, they'd probably look a whole lot like Jessica Harrison's gruesome reimaginings of classic English figurines. [Jessica Harrison — Thanks, GildaLily!]
This new Euro Bramble figurine, the second robot from Ashley Wood and Jon Gibson's World War Robot, is a thing of militaristic beauty. Click through for a few more Bramble pics.
Welcome back to MangoBot, a biweekly column about Asian futurism by TokyoMango blogger Lisa Katayama.
Earlier this week, I joined a team of experts from on an expedition to the world's most famous geek mecca. For half a century, people trekked to Akihabara to buy electronics parts. But in the last 10-15 years, the…