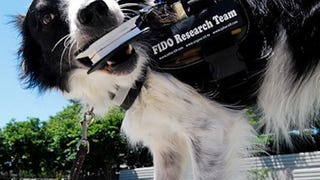 The device will reportedly enable dogs to send commands to a human. The potential applications – from disability assistance to bomb-detection to search and rescue – are manifold.
Science fiction is an actor's dream. The genre has created some breakout stars, like Harrison Ford, but it's also turned scores of working actors into beloved fan-favorites, who work the convention circuit. But here are 12 great science fiction actors who swing for the fences, and just don't get the appreciation they…
Earlier this week, we shared our 13 favorite zombie movies in honor of the latest Resident Evil installment, and most of these films have us reaching for a heavy, head-bashing bat. But what about those films where you want to see the zombie survive — or at least see a few humans fall to their rotting teeth? Here are…
A new crop of campy zombie ads are cropping up on Broadway, promoting Evil Dead: The Musical. While the posters are all very clever, their presence only reveals what I've long feared: the Disneyification of our beloved brain-eating zombies. These cute versions of the undead are everywhere nowadays, and getting campier…
When you think zombies, you think weird magic. But really, a lot of the greatest zombies in movies, TV and books have resulted from pure science. Okay, maybe not "hard" science, but at least some kind of scientific process involving lab coats. We list the greatest zombies of science, below the fold.