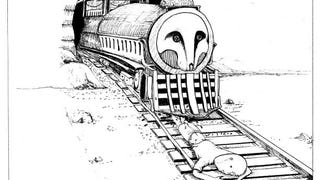 You've seen the exceptionally spoilery Game of Thrones Tinies (seriously, do not click on the link unless you've read all the George R.R. Martin books). Now, check out the Doctor Who Tinies, better titled The Gallifreycrumb Tinies!
Check out Game of Thrones' great death scenes, recreated like The Gashlycrumb Tinies by Edward Gorey. Watch as almost every death from Game Of Thrones is illustrated and rhymed into the alphabet.
We've seen tons of interpretations and reinterpretations of classic fables and fairytales, often filtered through layers of Disney. Edward Gorey's illustrations of Little Red Riding Hood, Jack the Giant Killer, and Rumpelstiltskin are wholly his own, adding his understated touch to those classic stories.