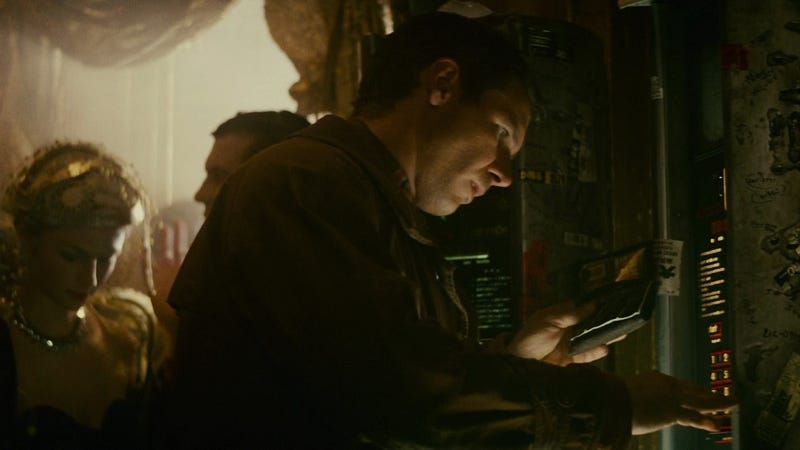 Imagining the future is a huge challenge — few people saw smartphones and DNA-based medicine coming. But if you want proof that "futuristic" science fiction is always about the present, just look at the obsolete devices people think will still be around. Here are 12 future visions that include tech we've already…
The moment we get immersive virtual reality, you know what people are going to use it for: the same thing we've used every other new technology for. And as long as movies have depicted virtual environments, there have been ridiculous VR sex scenes. Here are the most bizarre and hilarious VR hookups of all time.
A "utopia" is a fictional place where everything is perfect; it's supposed to give us a goal to aspire to, a place that we hope we — or maybe even the entire human race — can one day reach. But not all perfect societies are created equal. In fact, here are nine utopias that actually sound pretty goddamned terrible.
Science fiction looks to the future — but it also reflects the time when it was created. And the best science fiction often holds up a distorting lens to society that reveals deeper truths. In honor of tomorrow's release of Elysium, here are 11 science fiction films that had a huge impact on pop culture, and also…
In The Purge, a suburban family is put through hell because right wingers came up with a plan to eliminate the poor and the sick. And we all come face to face with how broken the American dream really is. Yadda yadda. Basically, it's like this year's Atlas Shrugged or Now: a clunky and implausible political screed in…
You know you're in the future when a title card pops up letting you know, and giving you a glimpse of the future world. This is one of our absolute favorite tropes from movies and TV. These establishing shots can be delicate (like this shot from Gattaca) or wonderfully obnoxious (like in Demolition Man) — but either…
A juicy virtual steak convinces Cypher to betray Morpheus, Trinity and Neo in maybe the most famous non-bullet-y scene from The Matrix. When you start paying attention, you notice how important food is in science fiction, whether it's dehydrated Pizza Hut, orgasm inducing desserts or fish biscuits. Even condiments get…

When you're strapped into a tin can and rocketing through the galaxy at thousands of miles an hour, your opportunities for bathroom breaks are pretty few and far between. At some point, you're going to have to step away from the controls and relieve yourself. However, in a zero gravity environment where an errant…
Science fiction doesn't just give us the best machines; it also gives the best sex as well. After all, if the future is full of anti-gravity lifts and teleportation, just think how far the porno industry will evolve. Scifi isn't just about human sex either: you can get it on with aliens, clones, and even machines. …