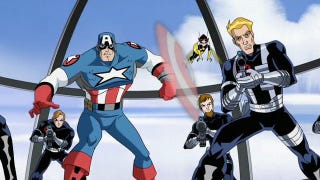 Avengers: Earth's Mightiest Heroes returns this week with a great episode featuring the Red Hulk, an episode torn from recent comic book exploits.
Has the Hulk gone rogue and changed colors? The second clip features Hawkeye annoying a subdued Bruce Banner who just wants to go fishing on his day off.
Ultimate Spider-Man returns this week (newly renewed for a second season) and features a Wolverine crossover written by Brian Michael Bendis.
The second clip is pretty funny, with Wolverine trolling on Spider-Man. Nick Fury shows up in the clip, with Magneto and and Sabretooth making appearances in the…
One of the most awaited cartoons of the year, Tron: Uprising, began this week and we've got two great clips from the episode. Also, a Franken-princess is created on Adventure Time and we learn the secrets of nightclub bouncers on Regular Show!
The second clip gives a glimpse of Zed and Mara's life as…
Clone Wars reaches its peak as Darth Maul returns, Archer's wife comes back from the dead, and we preview this week's DC Nation in what may be the largest edition of Saturday Morning Cartoons yet! As always, minor spoilers ahead!
The second clip is spoilerific and shows Darth Maul's new form and rather…