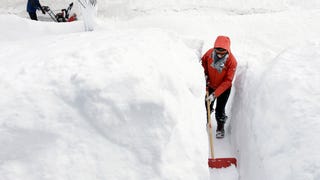 In this scenario, put forth by physicists at NASA's Jet Propulsion Laboratory, the rise in air pollution via coal emissions from China and Southeast Asia is to blame for the relentless snows that have blanketed parts of the United States.
One of the most well-respected climatologists in the world, James Hansen was pissed off about global warming way before it was cool to be 'green' — like, 1988. He's such a baddass that in 2006 he took on his employer, NASA, and the Bush Administration, publicly accusing them of supressing his research, which provided…
Though the EU has been clamoring to reduce carbon emissions, Germany is in the process of building 26 new coal-burning power plants. Here you can see a gigantic excavator machine mining brown coal near the Boxberg power plant yesterday. Consider this a "before" picture. Want to see what happens after the excavation?
You can tell this coal plant is eco-friendly, because it has cool-looking curved surfaces and clean transparent lines. The $1.8 billion FutureGen project just chose Mattoon, IL for its new clean coal plant, which turns coal into gas and separates out the harmful CO2. The plant will bury the CO2 underground, and…