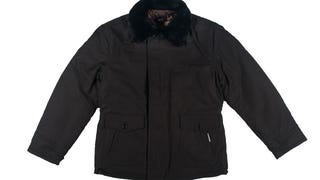 Own William Gibson's bomber jacket! Did you covet the Buzz Rickson MA-1 bomber jacket that cool hunter Cayce Pollard wore in William Gibson's novel Pattern Recognition? Now a similar jacket can be yours, as designed by Gibson, for just $690.
David Lynch's movie version of Dune may have its detractors, but up-and-coming Australian fashion designer Ben Pollitt used it as the inspiration for his summer 2009 range. Hence the "second skin" designs in our gallery.
Sometimes it's not enough to wear your science fiction pride silently on the inside. Every now and then you want to let everyone know you've got an inner geek who loves particle physics, laser beams, clanking robots, and otherworldly exploration. So we've put together a geek ensemble, full of nice bits you can wear…
If you want to wear fandom on your sleeve without going all Star Wars t-shirt on us, then you might want to pick something a little more subdued and cerebral. But still, you know, dorky. If you want to come out about your science fiction love to the world, there are a few cool indie t-shirt designers out there to help.