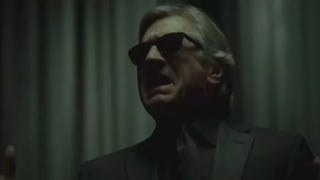 In Time is all about a whole Bonnie-and-Clyde-style crime wave — but the actual movie gets stolen by a member of the supporting cast, Cillian Murphy. The star of Sunshine and 28 Days Later is so much better than everybody else in that cast, it's almost embarrassing. You walk out of In Time shaking your head and going,…
Take an exclusive look inside Andrew Niccol's (The Truman Show, Gattaca) futuristic class warfare flick In Time — where time really is money. Meet Will (Justin Timberlake), a working stiff who wakes up every morning with 24 hours on his life clock. Plus Sylvia (Amanda Seyfried) a rich girl with plenty of time on her…
You're alone with your honey on a deserted island. No phones, no TV, no internet, no anything. You find a crazed man who says while you were on your vacation, the world ended. Do you believe him? This is the premise for Cillian Murphy's thriller, The Retreat. Watch the trailer now.
Cillian Murphy's been an old pro when it comes to being one of the last survivors of a deadly outbreak — but in Retreat, he's not even sure what's going on.
In Andrew Niccol's new dystopian movie Now, you can stay young forever — but only if you can afford the extra years. In our exclusive interview with I Am Number Four star Alex Pettyfer, he told us a little bit more about playing the villain in this futuristic epic.
Must-see movies are futuristic classics that shouldn't be missed. Of course, not every must-see is perfect. That's why we've rated them 1-5 on the patented "crunchy goodness" scale.

Title: 28 Days Later
Date: 2002

Vitals: Animal rights activists release monkeys infected with a virus called Rage that quickly…