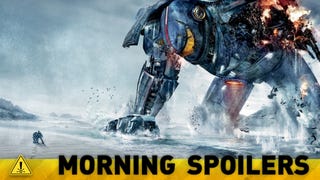 Check out the first clip from Pacific Rim. Learn one possible reason why Mary Jane was cut from Amazing Spider-Man 2. A live-action Captain Planet is coming! Paul W.S. Anderson says Resident Evil 6 films this fall. Julianne Moore could join Hunger Games. Plus hints about Under the Dome and Person of Interest. Spoilers!
Will the live-action Captain Planet movie ever really happen? It seems like a longshot — but this fan-made trailer for a Captain Planet epic reminds us all just how silly and awesome the half-naked blue superhero could be. And how topical, maybe.
At least according to this side-by-side comparison by Jamie Steinheimer. Does this make Ms. Frizzle some sort of Gaea-like Earth deity? Of course, she's cut from the same cloth as David the Gnome, who famously died on national television by turning into a psychedelic tree.
Science fiction and superhero stories are brimming with bromances, and artist Henry Bonsu celebrates male bonding with dynamic duos of fist-bumping friends. [Henry the Worst via ComicsAlliance]
A poor bunny rabbit is exposed to the molecular duplication ray — and its evil opposite is created, in this amazing clip from Captain Planet and the Planeteers. The new Captain Planet DVD set is full of equally ludicrous moments.
Generally we cry foul at any sign of childhood-pillaging remakes, but for some reason I was excited about the Captain Planet movie rumor. Until my dreams for a green-mulleted hero were crushed by common sense.