Stitcher Laura Hartrich captures the joy of Bill Watterson's Calvin and Hobbes artwork not with pen and ink, but with needle and thread. She has rendered one of the pair's flights of prehistoric fancy entirely in embroidery.

Bill Watterson, the famously reclusive creator of beloved comic strip Calvin and Hobbes, returned to your newspaper's comics page this week, and you probably didn't even notice. The sub rosa comic strips – three of them, to be exact – are the first Watterson has illustrated and published in almost 20 years.
Well here's an unexpected surprise: Bill Watterson, long-retired creator of Calvin of Hobbes, was so impressed with Stripped – a new feature documentary that invites some of the biggest names in comics "to talk about the art form they love, and what happens to it as newspapers die" – that he agreed to provide the art…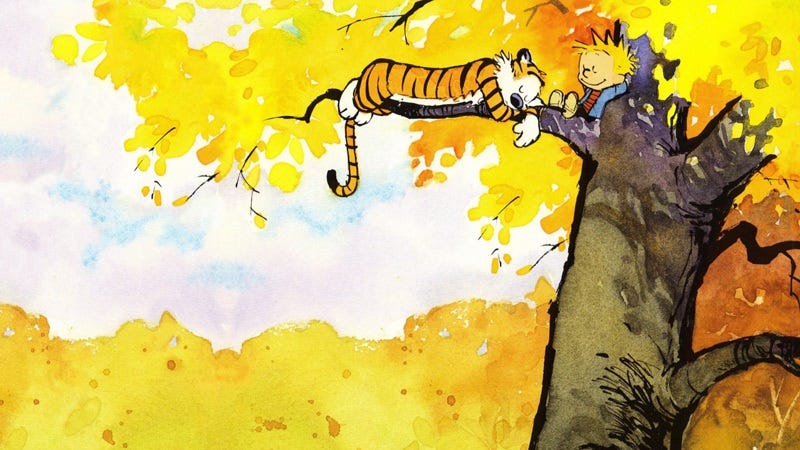 Nobody dislikes the comic strip Calvin & Hobbes. This is the premise of the documentary Looking for Mr. Watterson, and one I can personally attest to — I have never met a single person who didn't enjoy the wonderful art, the humor, the philosophy and/or the strip's creativity. I only know people who haven't read …
What happens when you blend the reflective comics of Bill Watterson with the philosophy of the Dune books? Calvin & Muad'Dib, two great tastes that are wonderfully odd together.
Artist Andrew Kolb pays tribute to Calvin and his indefatigable imagination with a pair of seasonal prints. Whether it's summer or winter, Bill Watterson's duo can travel through space and meet up with dinosaurs, UFOs, giant robots, and, of course, those mutant snowmen.
The always awesome Super Punch recently ended its Calvin and Hobbes art contest, which attracted plenty of hilarious and heartwarming artwork. And the winners offer Calvinish takes on Batman, Spider-Man, and The Twilight Zone.