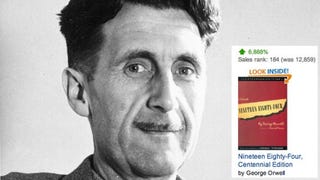 In the aftermath of recent revelations concerning a top secret government surveillance program aimed at monitoring the personal and private interactions of mostly innocent civilians, many Americans are naturally concerned with what the future might hold for a country being run by an All-Seeing Eye.
The MarsOne Project wants to send astronauts on a one-way trip to Mars, and they want to do it by 2023. How do they plan to pull it off? Simple: by creating "the biggest media event ever."
Harold Finch and John Reese track potential crime victims using secret databases and a ubiquitous surveillance infrastructure in the new series Person of Interest. Their world is filled with street corner cameras and espionage — but in the real world, cameras and databases are tracking your every move just as…
Internet, your narcissism has been validated. The Library of Congress will archive all public tweets for historical purposes. Somewhere in the unfathomable future, a historian really, really cares that you had a Reuben for lunch today. [Physorg]
Today the Electronic Frontier Foundation is testifying at a hearing on the Google Books Settlement, arguing the company's ebook service will track what people read online. Worried about your book-reading privacy? EFF has also just released an e-book privacy guide.
Between phones, emails and GPS devices, are we all carrying around multiple ways for Big Brother to know everything about us? Electronic evesdropping is easier that ever before, according to experts. Well... kind of.
What if Big Brother was hijacked by Big Cupid? DreamWorks' new movie Good Looking shows a future dating service that uses surveillance camera footage to match lonely hearts without fail. Well, almost without fail.
If you browse
Cthulhu fetish
sites in the comfort of your own home, who's going to know? You can clear your browser history and secure your home network, but that doesn't mean your late night Lovecraftian lust sessions are safe from prying eyes. A new nationalized database system could let the British government know…
Though some might say that zombies already inhabit reality TV shows like Britain's smash hit Big Brother, a new show called Dead Set is taking that claim to the next level. Produced by the same company that makes Big Brother, the (fictional, scripted) show takes place in the Big Brother house as massive zombie…